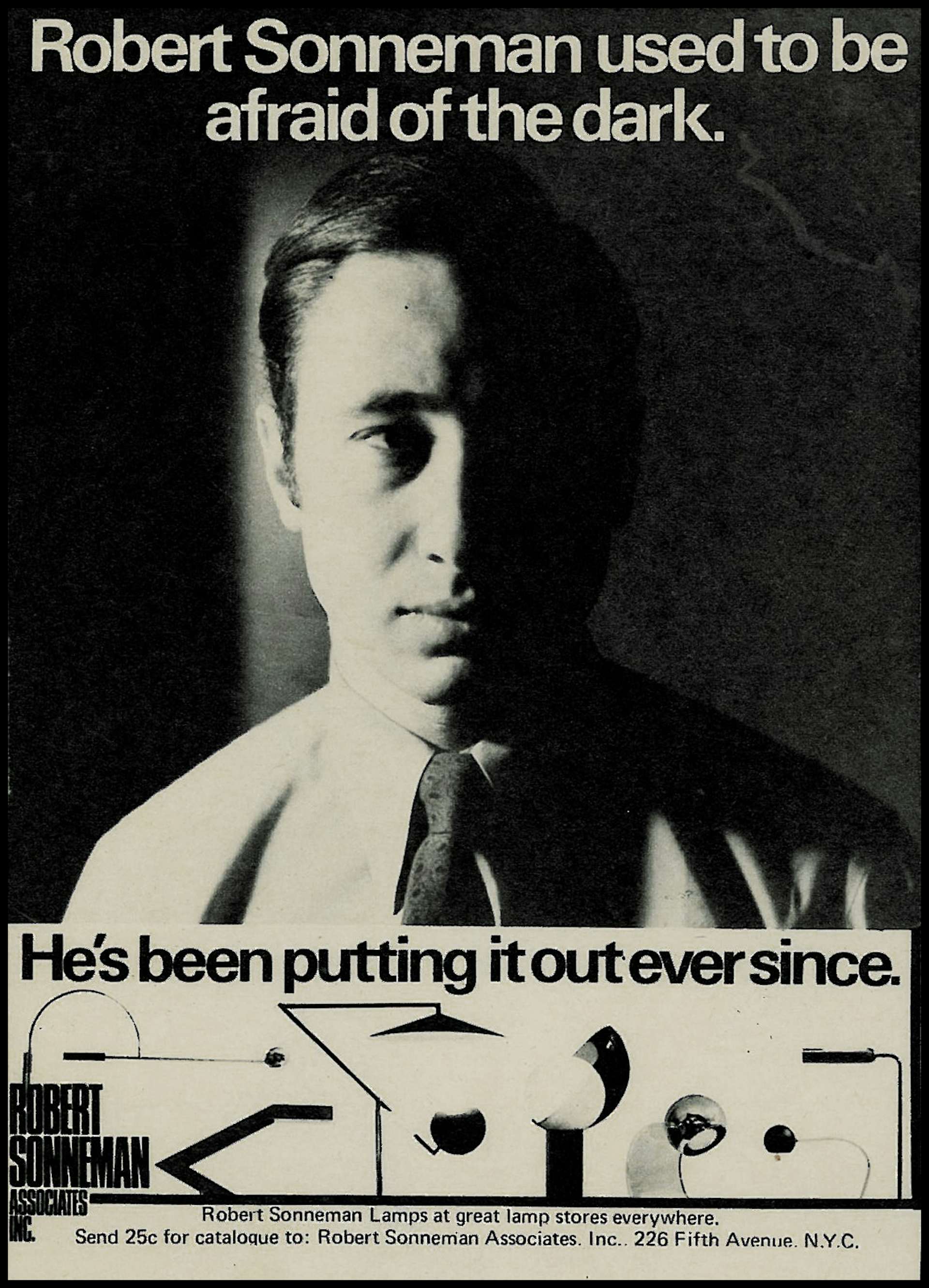 In today's article, we'll focus on Robert Sonneman, a lighting pioneer who transformed lighting into an art form in the 1960s. Sonneman is regarded as an outstanding designer since he has designed lighting models that are still popular today.
As a New York City native, Sonneman developed a strong interest in art at an early age and immersed himself in studies at both the Rhodes Preparatory School in Manhattan and the Art Students League of New York. After serving in the Navy, he became the sole employee at a lighting store, which is where he became seriously intrigued with modernism and European minimalism. After gaining a chunk of solid experience, he found he had acquired the necessary skills to actually engineer the products he was imagining, and opened his own factory at 23 years old.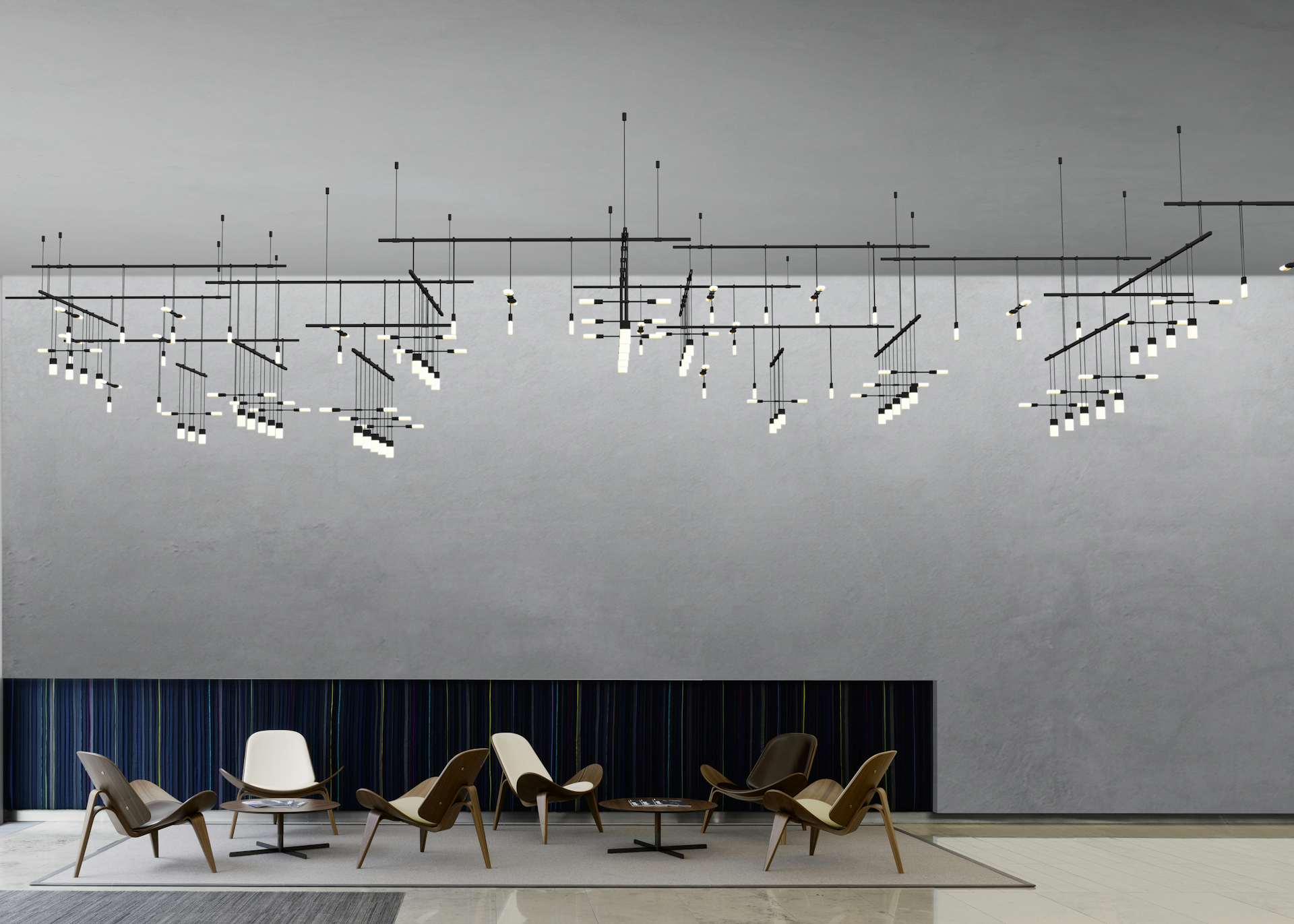 Fast forward almost 60 years later and his products are just as relevant as ever, with some designs even being continued and enhanced with cutting-edge updates. Sonneman believes that lighting requires a deep commitment to technology and a clear knowledge of manufacturing, materials, and processes. His past and present designs are inspired by the work of modern masters including Marcel Breuer, Le Corbusier, and Mies van der Rohe. Additionally, industrial design by Porsche, Knoll, and Braun has played a role in the way he has always approached his work. Scroll through these images to see how his commitment has revealed itself through the years.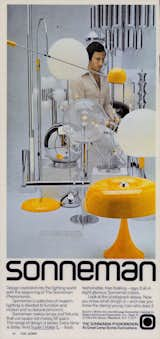 Throughout Sonneman's years of being in the industry, he managed to turn lighting design into an art form, while creating a strong alliance between form and function. This advertisement from the early 1970s shows the range of artistic forms he brought to production in the early years of his business.
After absorbing a range of modern design influences and building his own point of view, he became known for developing a type of American style that was minimal and cosmopolitan. Shown here is a vintage Bloomingdale's advertisement that places his work in a modern living setting.
At the forefront of this 1970s advertisement is Sonneman's Mushroom table lamp in a distinct mustard hue. It was constructed of spun aluminum and was topped off with a chrome tipped bulb. Though this piece is no longer in production, some of his original designs from the era are still around today.
Case in point, one of his first creations was the Orbiter lamp, which was devised in 1967 as a functional and mechanically-based design. The simple arc treatment turned it into a timeless piece that's still in production today.
Shown here is another iteration of the modular Suspenders system, comprised of interconnected linear arms that support suspended LED luminaires. The collection can be configured in multiple graphic shapes and scales, with interchangeable luminaires in single drops or cluster formations. When Sonneman first designed Suspenders in 1989, it was made up of bulky transformers and halogen lights. By updating the technology, he has been able to reimagine the scale of the design while applying energy-efficient LED lights that generate almost no heat. One of the ways Suspenders can be arranged is in a Tri-Bar configuration. Hanging from a ceiling-mounted outlet box transformer is a 24″ tri-bar that supports three 36″ linear power bars, each with five LED luminaires.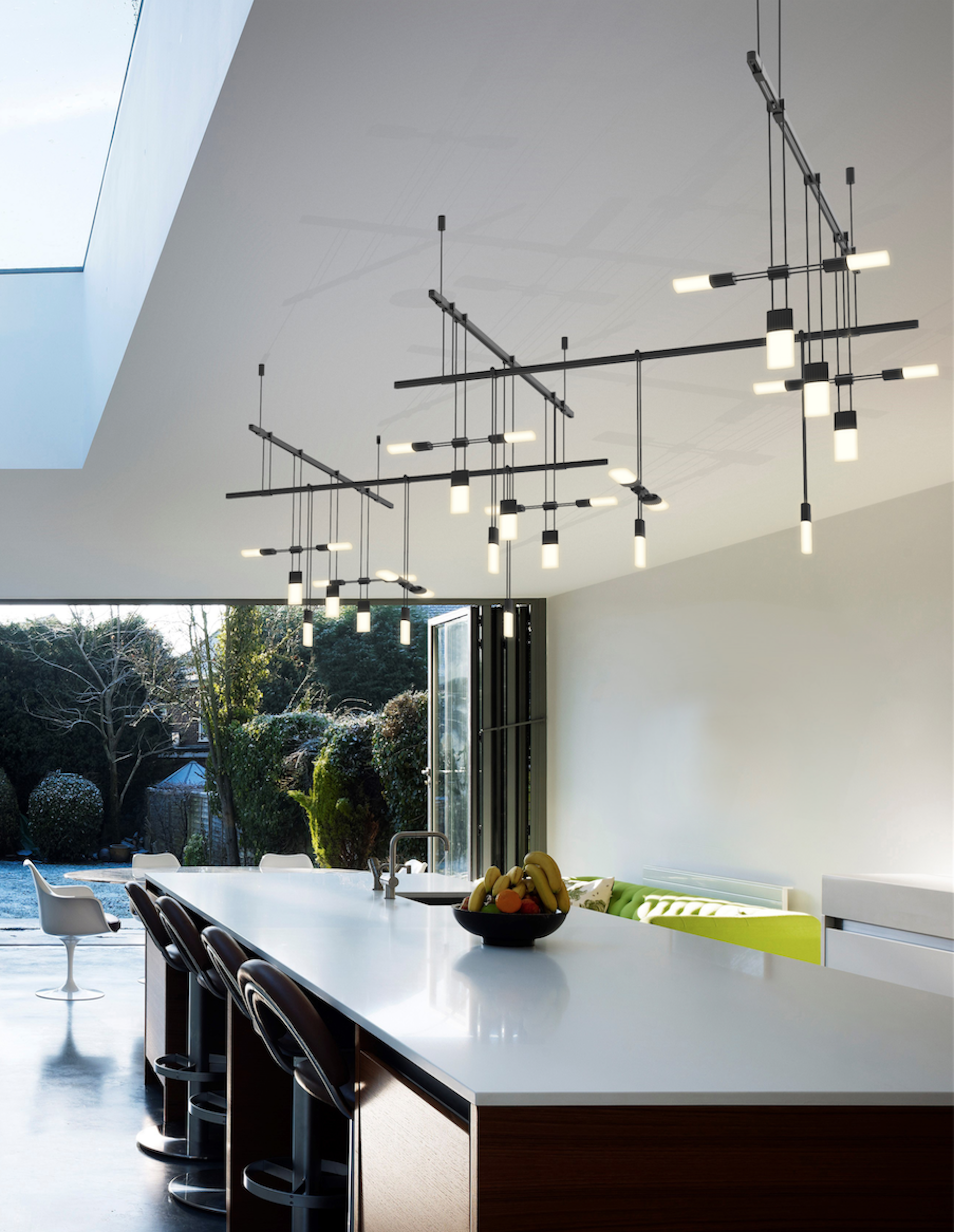 For a subtler statement, the Mini Single sconce consists of a single drum style luminaire that hangs from a wall-mounted power feed. Throughout the collection, the LED luminaires are available in eleven different styles, so you're sure to find the perfect configuration for your home.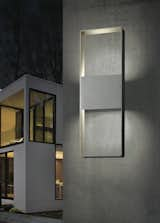 Sonneman continues to develop innovative lighting designs that provide a sculptural presence. Most recently, he launched the Inside-Out collection, his first venture into lighting with both indoor and outdoor applications. Shown here is Light Frames, which allows light to be projected downward or up and down to create a halo profile.