Lighting innovation knows no bounds! This year, 2023 began with new trends not just for the design part, but also for the functional side of the products .New trends also include creating a combination of elements to customize your fixtures the way you want. New catalogs have a variety of products that you can command lighting temperature or  create a lighting product as you wish to match the  style of your project.
Lighting fixtures with opal globes
This new product of the 2023 catalog can be modified as required, starting from the rosette, to the size of the globes, and ending to the number of globes. "Unlimited" combinations, very elegant and with color options: black, white and gold. The size of the globes starts from 12cm to 20cm, and it is suitable as a lighting fixture for projects where warm light is needed. We are giving you some combination ideas in the photo below.
Controllable lighting fixtures with "Tuya" app
This circular hanging or ceiling pendant in gold, black and white color now has new control options. Tuya Smart provides an all-in-one app that has the features of being free, immediate use, easy control, diversified scenarios, useful functions, and world readiness. You can control the lighting temperature from 2700K to 4000K and decrease or increase the light intensity to suit your activities.
Ceiling Fans for all seasons of the year
Ceiling Fans are mostly installed in summer projects, but in the last few years, they can be used also in other projects  because they can also be used during the cold season. You can choose to get a fan with or without light and with the lighting temperature you want. These fans can also be used during winter to circulate the air by changing the way of gradation. At our showroom Vitalux you will find fans with 3 up to  5 speed levels, with DC motor and guaranteed lifespan.
Mirrors with LED lighting
Another very interesting 2-in-1 products from the new catalogs are LED illuminated mirrors. Suitable for toilets with IP54 (protection against water drops, steam and dust) these mirrors are available in two dimensions in the circular shape and in one dimension in the square shape. With options like  "touch screen" and   "anti-fog", this mirror-light is very practical and efficient.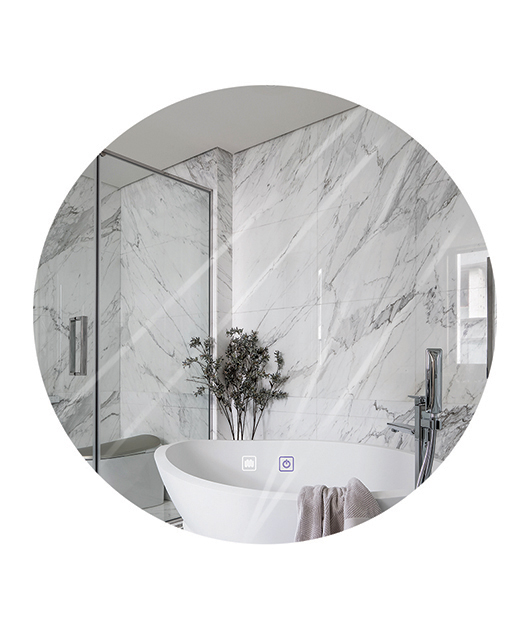 Lights with Wifi charger or/and with USB charger
In recent years, lighting fixtures are being created with charging options. The models are varied, including wall lights with USB charger  and flexible adjustable spots, wall lights with USB charger which also have a place to hold the phone, etc. And the variety of choices continues  with  table lamps that either have Usb charger/Wifi charger or have both ports. Table lamps also have the option of controlling the light temperature and folding option to save space or to be easily taken. Suitable for every activity at home or work office.
You can find all these products at Vitalux in different varieties where you can make your choice based on the style of your project.